Any questions?
Stuttgart +49 (0)711 - 9 39 33 32
Berlin +49 (0)30 - 8 82 58 62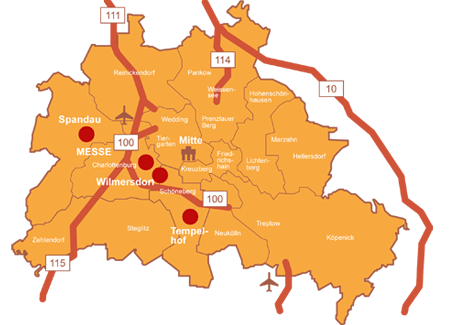 Tempelhof
Its airport has made Tempelhof famous. It was here that the Allies landed their "air bridge" from June 1948 to May 1949 during the blockade of Berlin's western sectors by the Soviet Union.
Today Tempelhof has everything that goes to making a modern and liberal urban district with its shops, restaurants, cafés, parks and gardens as well as art, cultural activities, theatres and many recreational facilities.
This is an ideal location thanks to its proximity to the centre of Berlin with its important business centres and tourist attractions.
Spandau - a town within the city of Berlin
Located at the confluence of the rivers Havel and Spree, Spandau has always been an important strategic point and has flourished since the 10th century with fortresses and town-like settlements.
In 1644 it expanded to a garrison and even today evidence of Spandau's history can be seen in many places.
Today Spandau plays a major role in and for Berlin with a variety of cultural attractions, shops and a multicultural structure. The Berlin hinterland is just as accessible from here as the major attractions in the centre of the city.
The Kurfürstendamm – The centre of Berlin
The Kurfürstendamm stretches from Grunewald to the Kaiser Wilhelm Memorial Church then merges with the Tauentzienstraße which leads to the Wittenbergplatz.
Shopping, cultural and leisure time activities, theatres, entertainment, luxury, hotels, bars, music, the Berlin Zoo, good transport links, nightlife; everything you could possibly wish for is here, including our apartments and our Berlin office, Kurfürstendamm 210.
Wilmersdorf
Discover Berlin living in either a recently renovated main apartment building or a newly built house with large glass facade. Although this location is central and within easy reach of all the cultural attractions, sights, leisure and shopping facilities, this side street with traffic restrictions is very quiet. Separate parking places are available for your vehicle.
The Kaiser Wilhelm Memorial Church (Gedächtniskirche) is just 5 minutes away by car, the Brandenburg Gate approx 11 minutes and the Alexanderplatz 15 minutes.
Berlin
with city map
Our locations: